With the Dreambox Seven Ultra HD, the Lünen cult receiver manufacturer Dream Property has announced its latest receiver flagship, which will be the successor to the successful DM920 Ultra HD. The latest Linux dream box with 3 "color display and HDR support is supposed to combine fast Amlogic chip power with options for IPTV, Android, Netflix, Prime, Disney + and Co. and sets both in terms of TV reception and on the subject Pay-TV for maximum flexibility, we reveal in our exclusive preview what this looks like and what extra is integrated for recordings, and the Linux pioneer has also announced a super FBC satellite tuner with four inputs.
Manufacturer Dreambox
Seven model
Dimensions W × H × D (in mm) 270 × 50 × 189
Weight (in kg) approx.2.2
Flash memory 16 GB
RAM 2 GB
Processor / performance Amlogic 922 quad-core / 53,000 DMIPS
Hardware features
Tuner type / slot for plug & play tuner Twin-DVB-S2, DVB-C / T / (2 ×)
Possible reception channels satellite, cable, DVB-T2
Display type / resolution 3 "LCD / N / A
Common interface / no. / 2nd
Smart card reader / no. / 2nd
Power switch
Available colors black
Hard disk 3.5 "and 2.5"
(each optional)
Connections:
Video HDMI 2.0 (out),
Audio S / PDIF (optical),
Data 2 × USB 3.0 (front and rear),
Gigabit LAN,
SD card reader (front),
Dream Service Port
Data:
WLAN / standards / 802.11
a / b / g / n / ac
Bluetooth / Version / 5.0
Installation
Image resolution up to 2160p
DiSEqC / Unicable /
Unicable 2 (JESS)
1.0, 1.1, 1.2,
USALS / /
Expected EIA in € between 349 and 449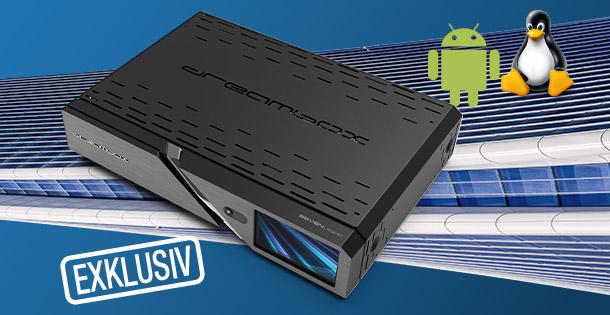 Neuer 4K-fähiger Linux-Receiver Dreambox Seven Ultra HD mit Twin-DVB-S2X- oder DVB-C/T2-Combo-Tuner, je zwei CI-Schnittstellen und Kartenleser sowie Amlogic-Prozessor in der Preview.

satvision.de