Laitteisto

Vu+ Solo2
Octagon SF4008
1,1m moottoriantenni
Jos jollakin sattuu olemaan käyttöä 4*HDMI kaappauskortille niin tässä on sellainen, tuli TBS Shopilta mulle sähköpostiin tämä.
Pro Quad HD HDMI Capture Card (TBS6304)
TBS recently releases a high and standard definition capture card with quad HDMI 1.4 inputs and H.264 hardware compression. Users can easily capture SD/HD signals from different kinds of devices by this Pro Quad HDMI Capture Card without limitation.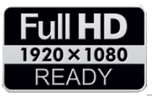 Enjoy True HD 1080P
Pro Quad HD HDMI Capture Card supports quad HDMI/HDCP inputs displaying up to 1080i resolution and compacts audio/video/composite/component (1080i) interface for transmitting digital data. It also supports to capture or record HD content in H.264 format from PS3, Xbox 360 and digital camcorders.
Applications:
IPTV Servers
Datacasting and monitoring
Live TV Capturing and streaming
Broadcast TV
Feartues:
Quad HDMI inputs
Max. input resolution 1920 x 1080 60fps
Compliant with HDMI 1.3, HDMI 1.4a, HDCP 1.4
H.264 hardware compression
10-Bit absolute encoding
Windows & Linux support
H.264 Hardware Compression with low CPU Consumption Solution
Equipped with an advanced built-in H.264 hardware encoder that enables the system not to utilise CPU's computing ability while maintaining high quality video encoding. This feature balances the load and in turn increases system's reliability.
Works as DVB tuner system device, TBS Pro Quad HD HDMI Capture Card is built-in a H.264 encoder with HDCP supported and provides adjustable resolution and bitrate options. You can easily apply it to IPTV streaming servers for headend systems.
4 x Real HDMI Digital Interface
TBS HD HDMI Capture Card provides 4 HDMI inputs of highest quality video. It meets the HDMI 1.4 standard and can be able to capture the LPCM audio signals.
Flexible Extension for 8 Inputs:
Strong expandability, it can extend to 8 HDMI capture card by connecting an additional card via SATA cable without utilizing a second PCI-E slot.
Intuitive User Interface for Effective
Management of TS Stream Outputs
TBS Pro Quad HD HDMI Capture Card supports automatically detecting the signal source. With TBS encoded setting tool, it can easily switch between channels and adjust configurations, offering better TV viewing experience.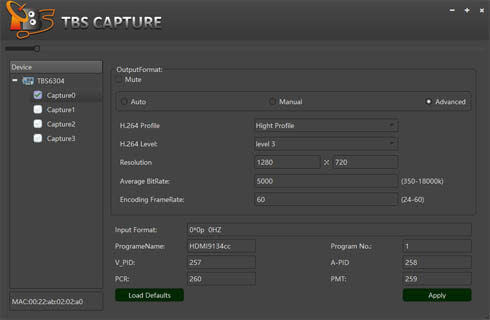 Specifications:
Model TBS6304
Interface PCI-E x 1
Input HDMI 1.4a
Output TS
Recording Mode Hardware compression, real time mode
Encode Format H.264
Audio Input HDMI Embedded audio
Update Firmware could be updated.
OS and Driver Windows XP / Vista / Windows 7 /Windows 8 / Windows 10/Linux
Temperature 0 ~ 60 ℃
Dimension
Capture Card Size 144mm * 104.5mm
Gift Box Size 18.5*16.5*3.5 cm
Weight 500g
Package content 1* TBS6304 HDMI capture card
1* DC line
HDMI Input Video Format Support:
Horizontal size Vertical size Rate I (Interleave)or P (Progressive)
1920 1080 60 / 59.94 P
1920 1080 50 P
1920 1080 60 / 59.94 I
1920 1080 50 I
1280 720 60 / 59.94 P
1280 720 50 P
720 483(480) 59.94 P
720 576 50 P
1920 1080 30 / 29.97 P
1920 1080 25 P
1920 1080 24 / 23.98 P
1280 720 30 / 29.97 P
1280 720 24 / 23.98 P
TBS Technologies International Ltd.
Address:610, 6/F, Bldg.36, Chentian Industrial Park, Baotian 1st RD, Xixiang Town, Bao'an District, SZ, China.
ZIP:518055 Tel:
+86 755 26501345
Fax:
+86 755 26549326
www.tbsiptv.com